JLA x APOLLYCON 2023 VIRTUAL SIGNING OPENING FRI!
December 14, 2022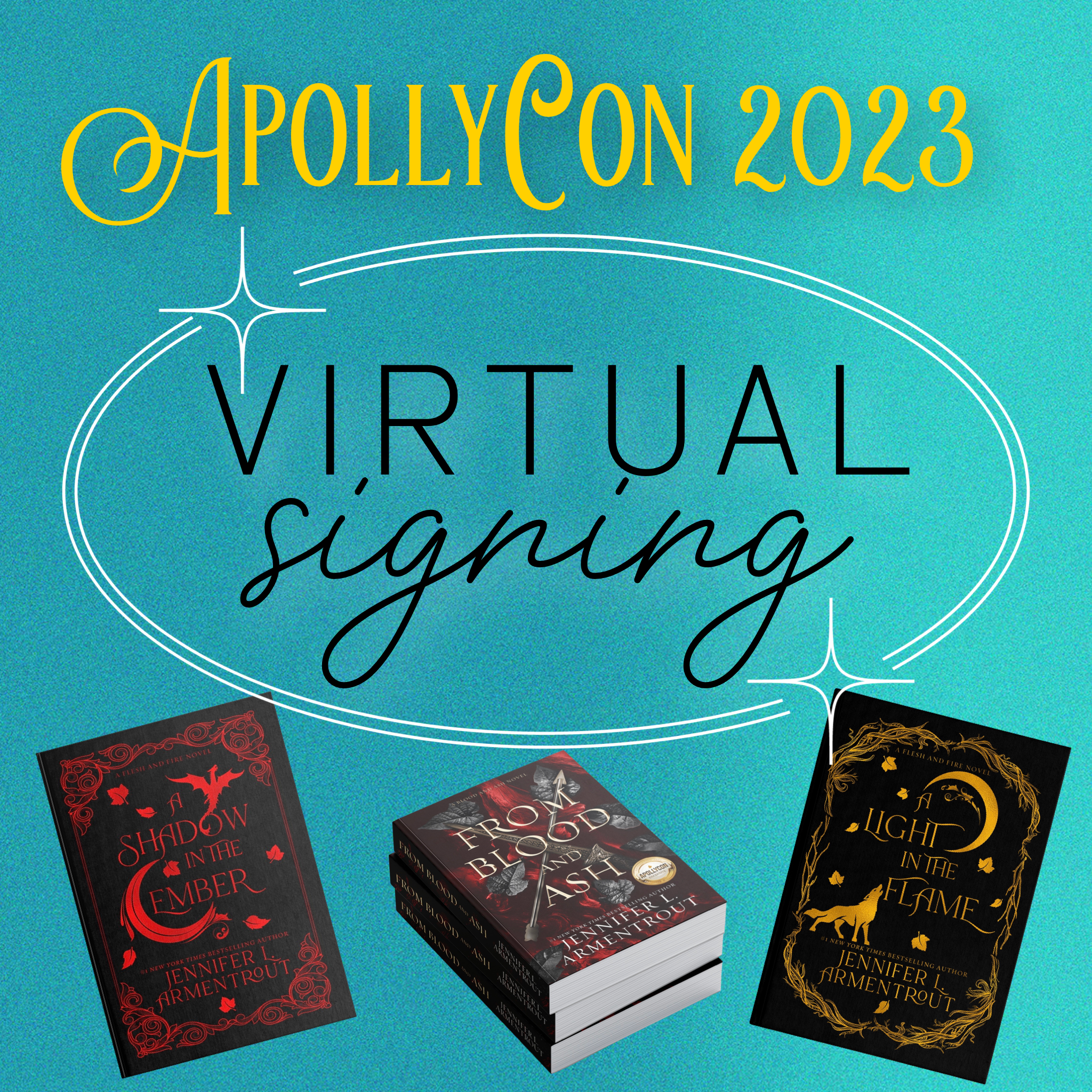 Due to popular demand, we are finally bringing back the ApollyCon Virtual Signing! 
Check out the graphics below for details about our virtual signing, which will solely include the ApollyCon event-exclusive editions of JLA's titles, to learn how you can purchase SIGNED + PERSONALIZED copies of these gorgeous books!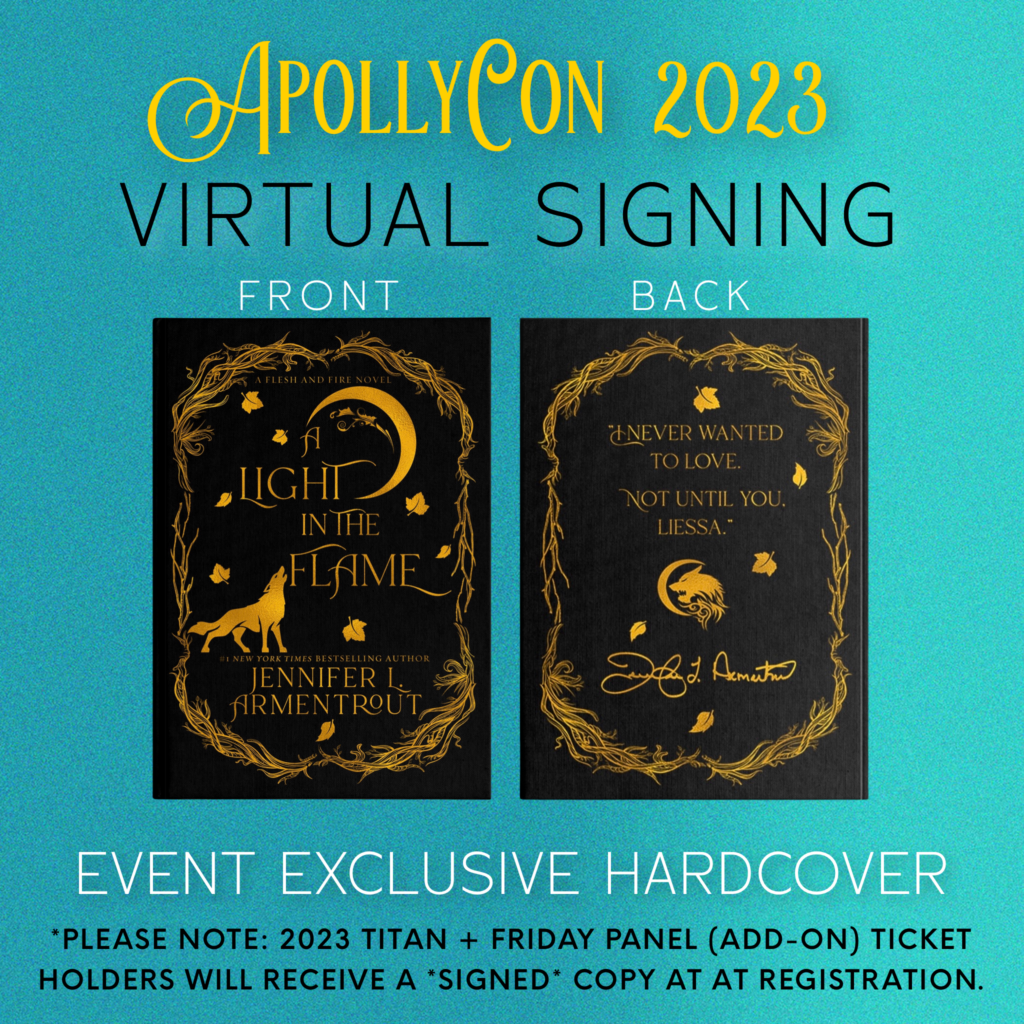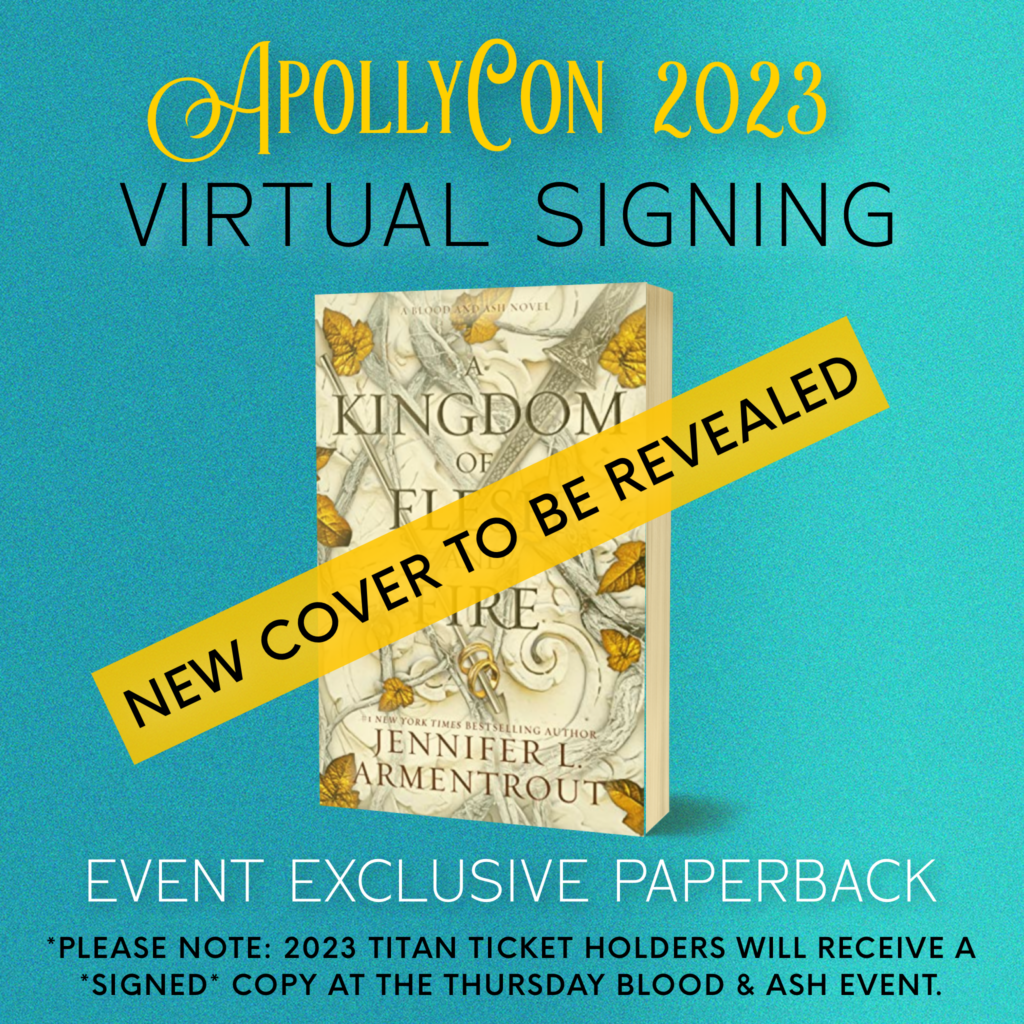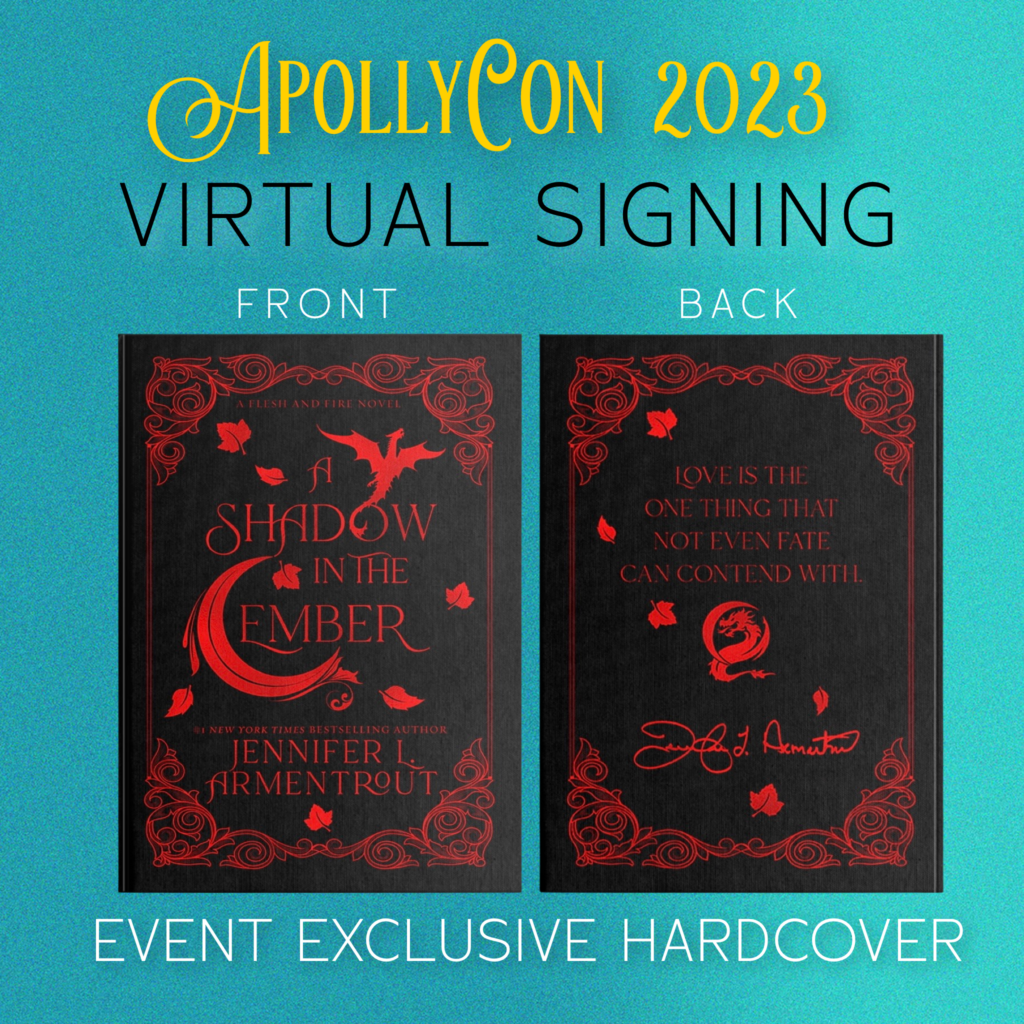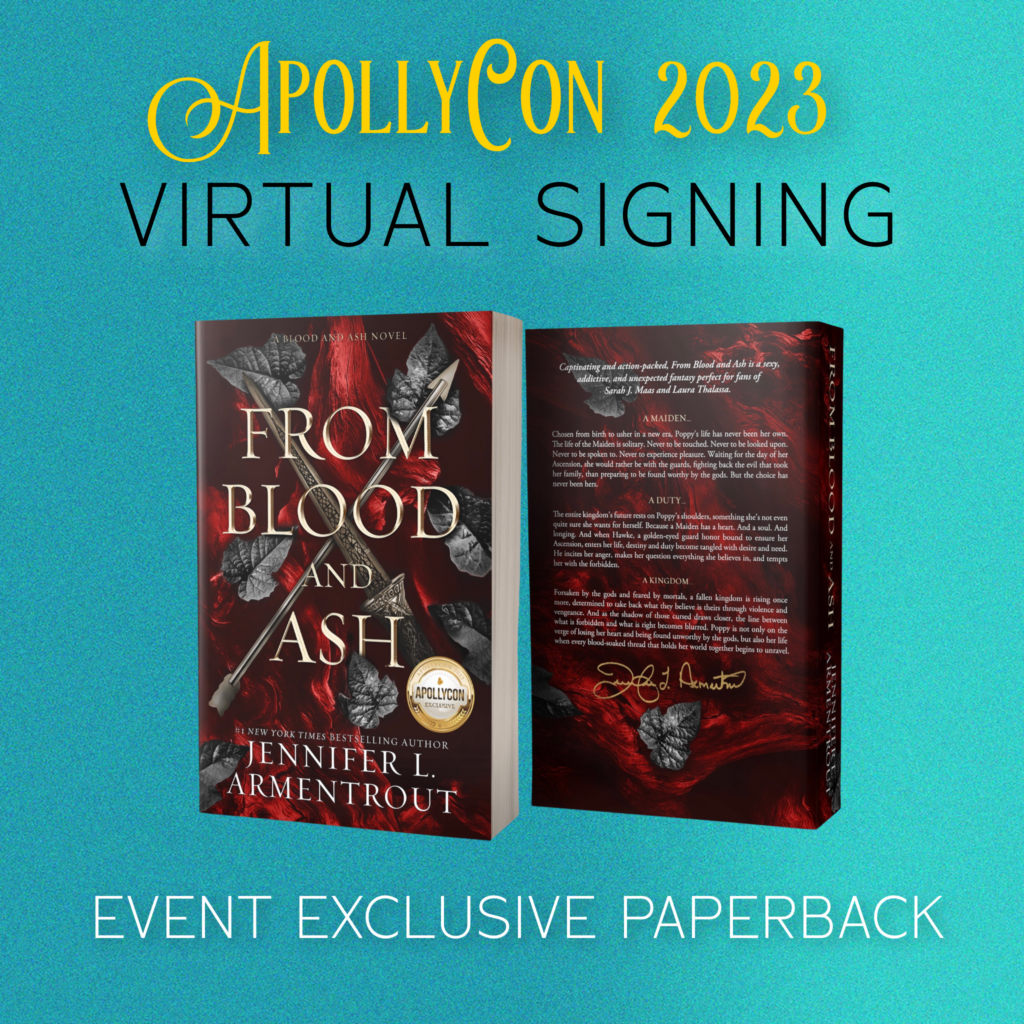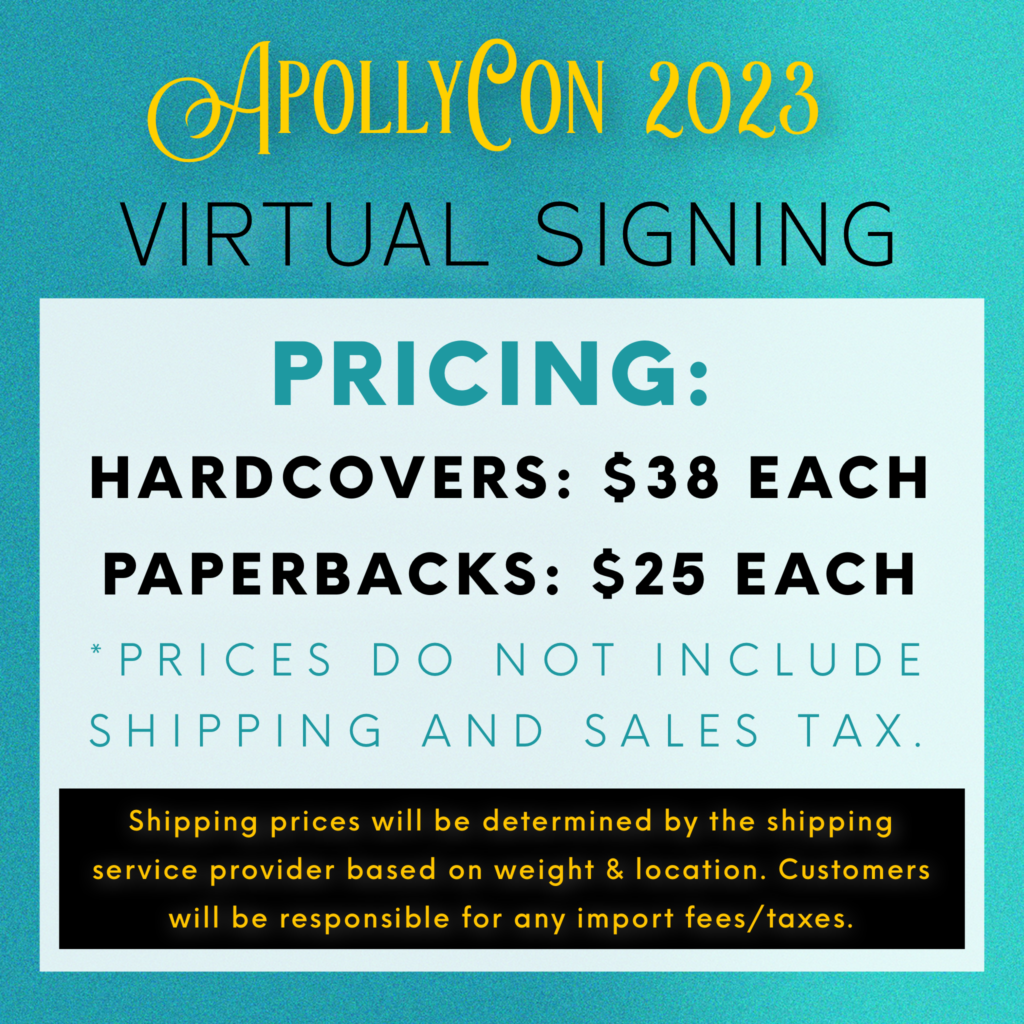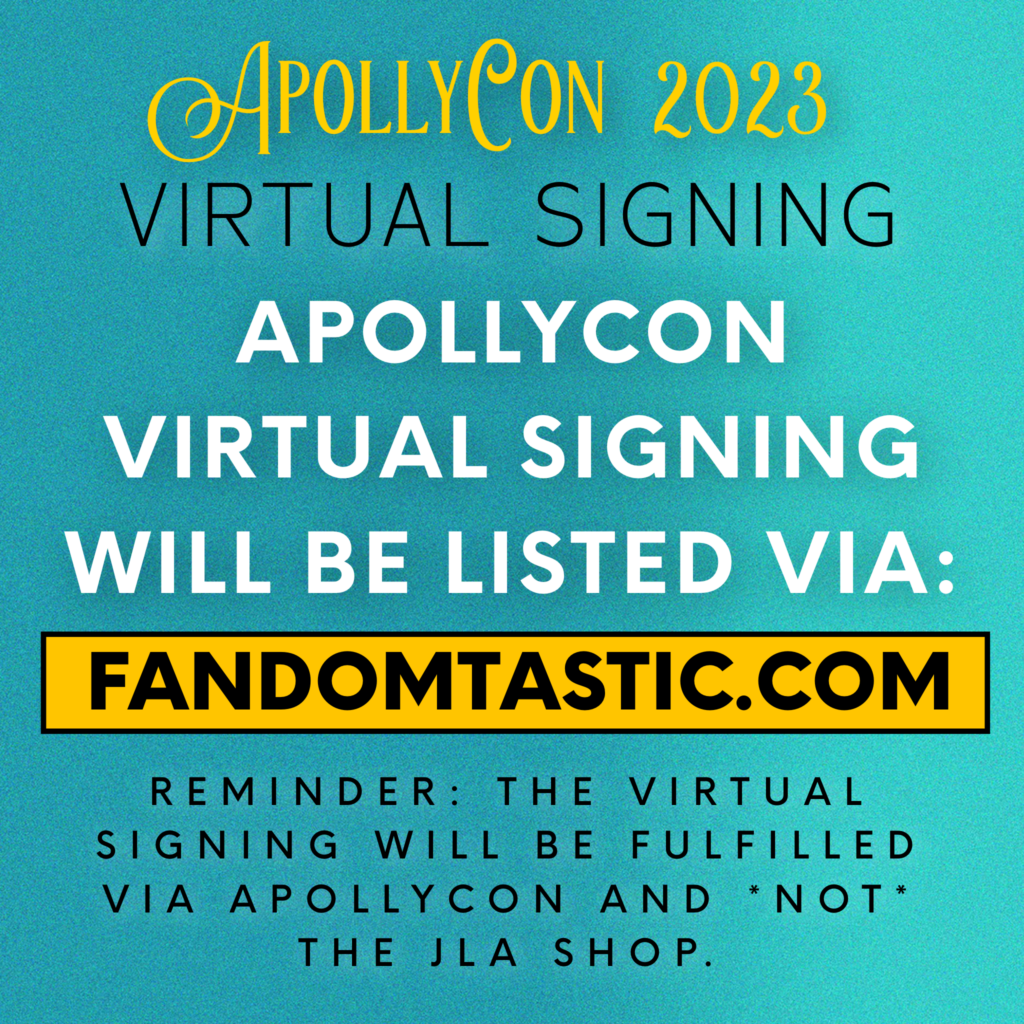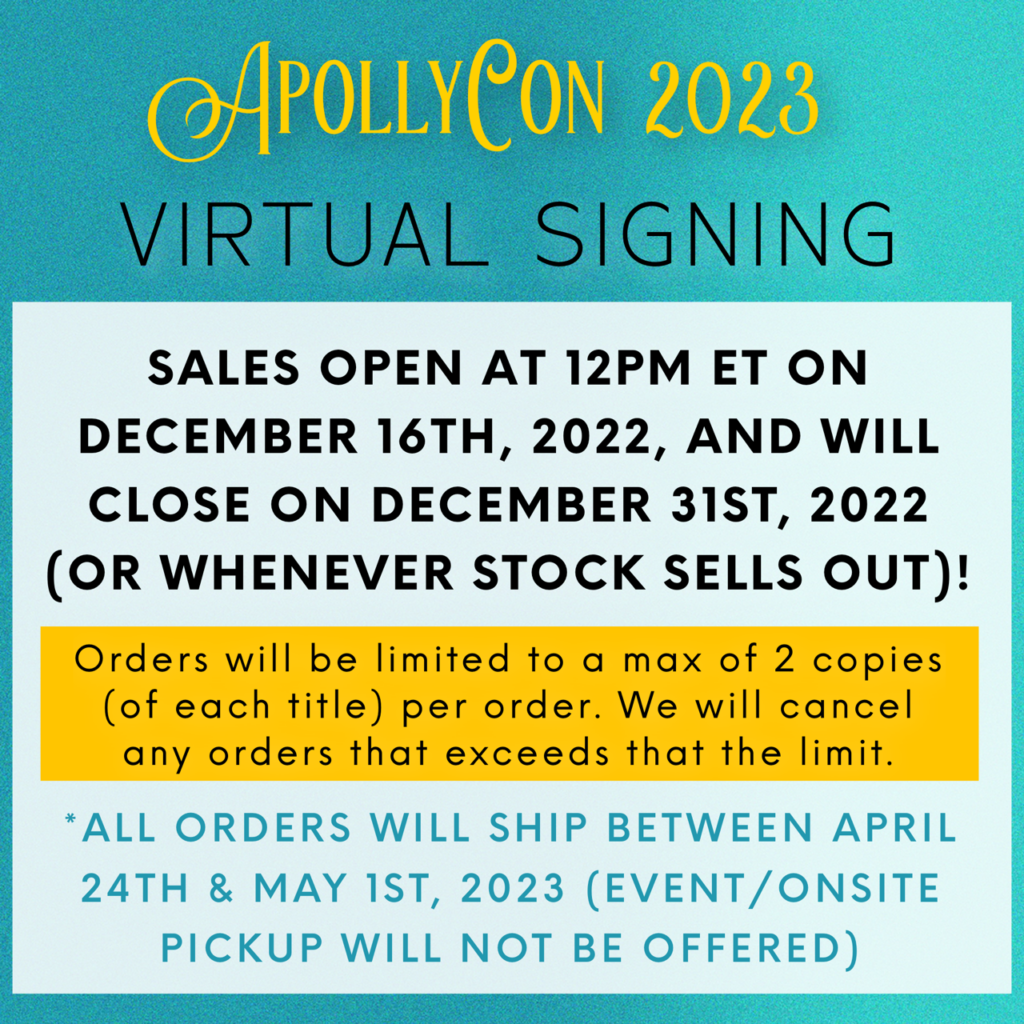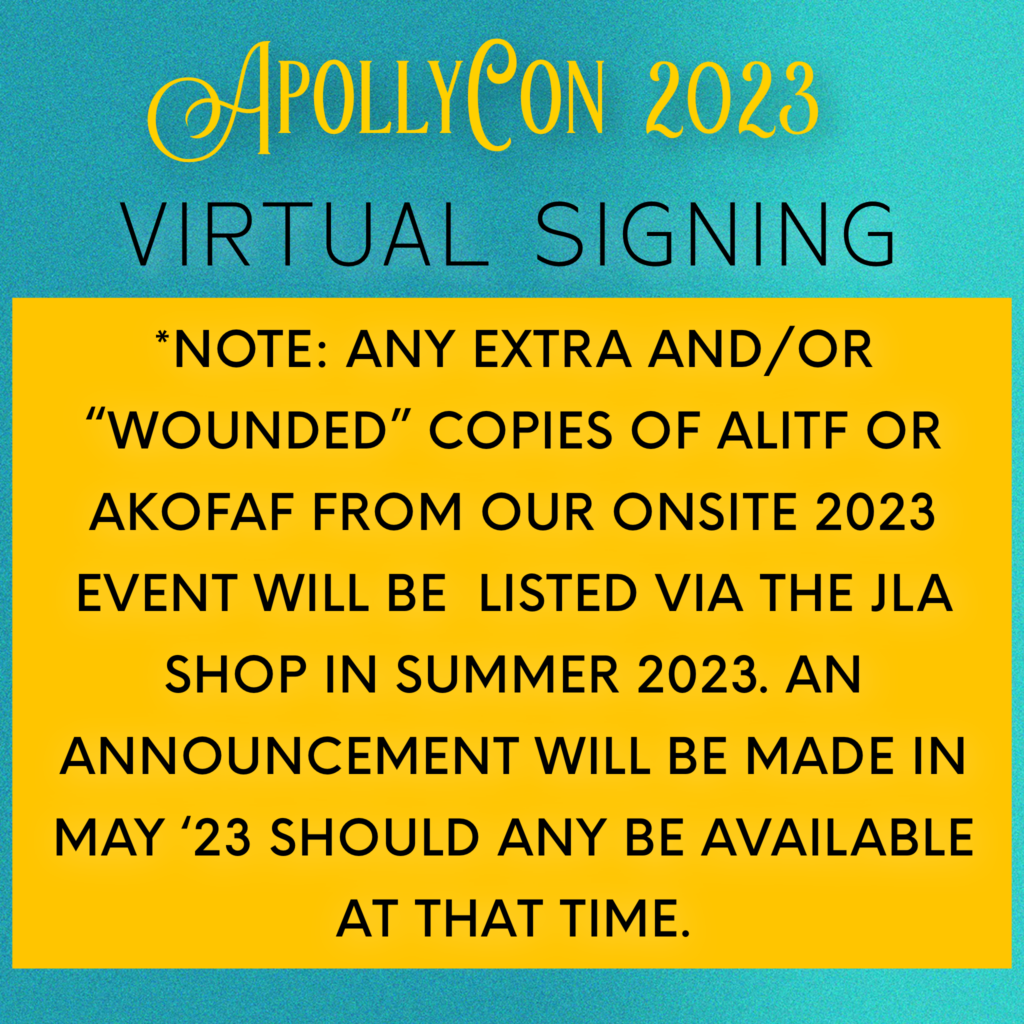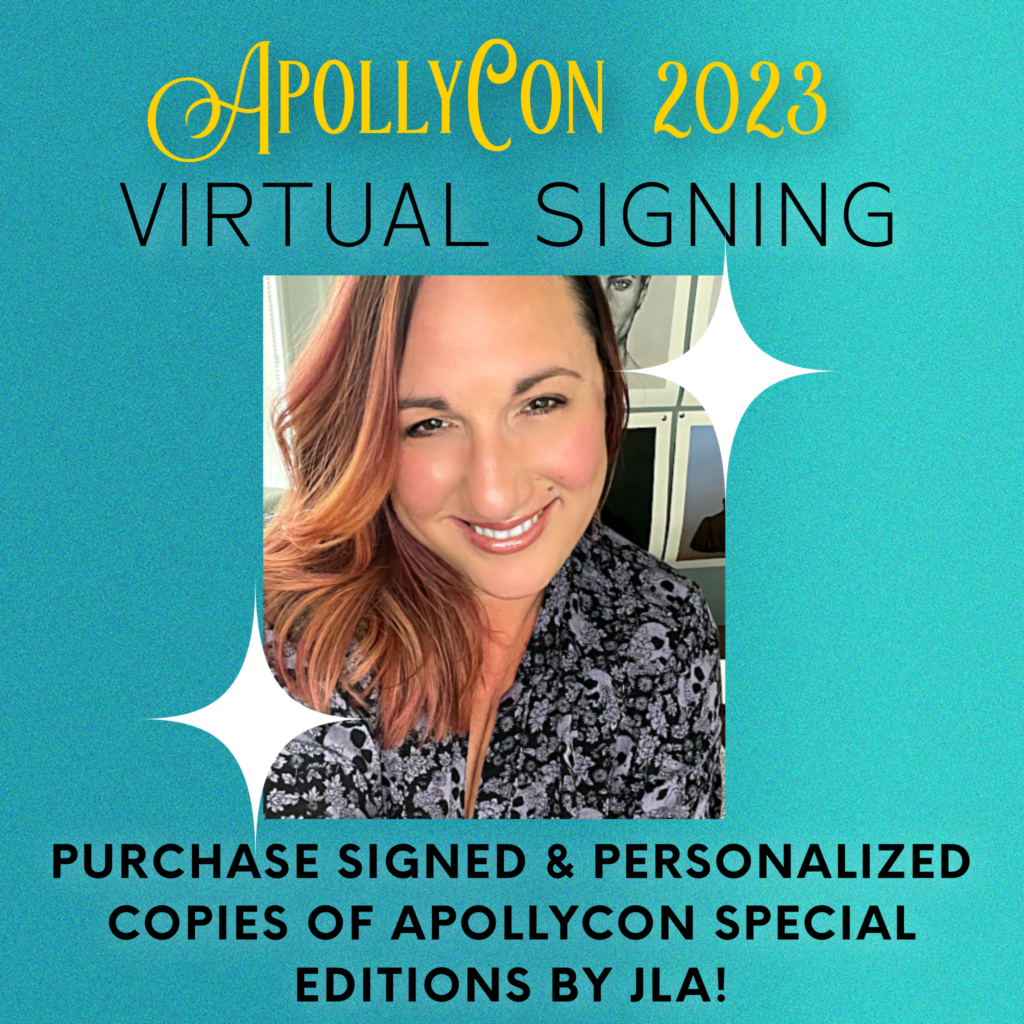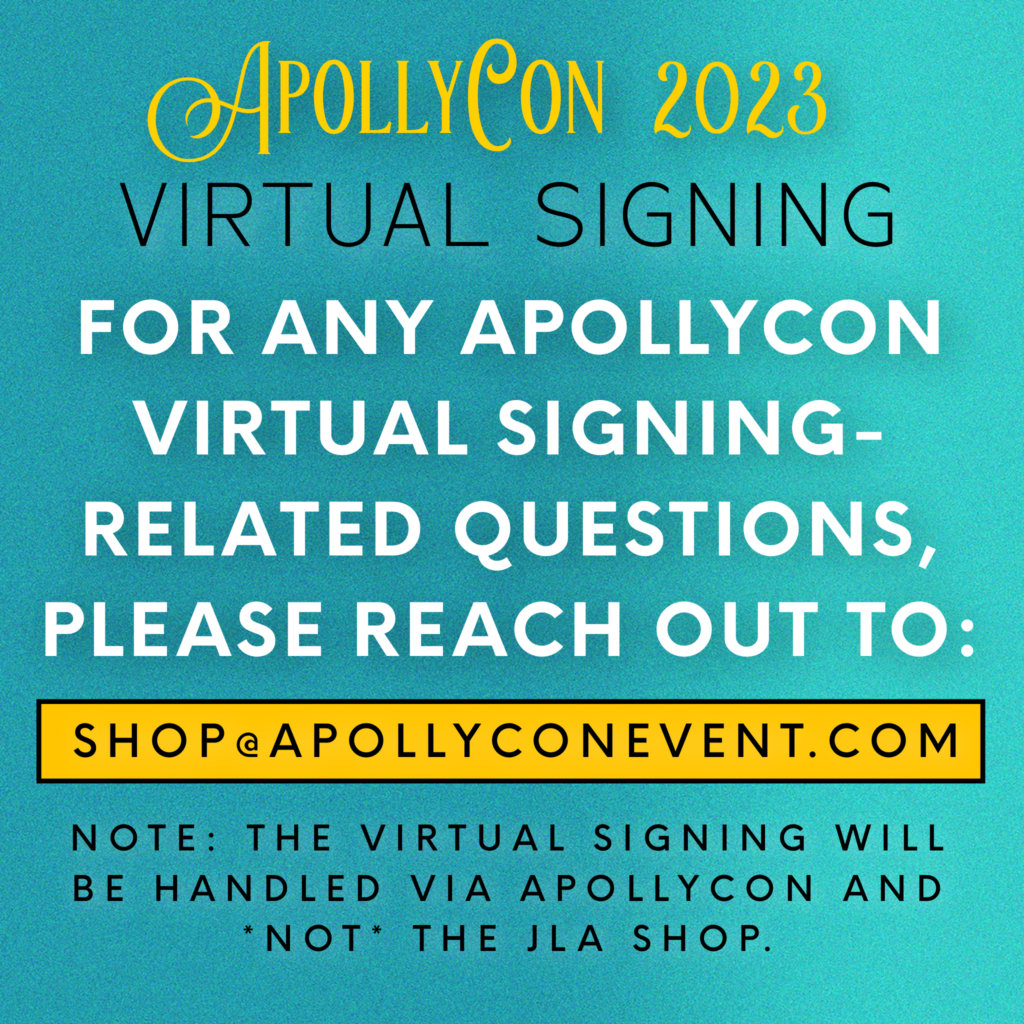 Frequently Asked Questions:
What is the Virtual Signing? The virtual signing is an online storefront where you can purchase signed copies of books to have personalized by the author(s) participating. **NOTE: The virtual signing storefront will be password protected until 12PM ET on December 16th, 2022. After 12PM on that date you will not need a password to shop!
Do you ship internationally? Yes! However, we are unable to ship to the U.K. at this time. Additionally, if you live in a country/territory that is not currently accepting packages via USPS, it is likely we will not be able to complete your fulfillment (and will issue a refund).
I live in the U.K., how can I order? We advise that any customers who'd like to ship to the UK use a parcel forwarding service such as Stackry, which will provide a U.S.-based mailing address that you can use at checkout! In most cases, the shipping rates are much better via the parcel forwarding service.
When is the Virtual Signing? The ApollyCon 2023 VS will open on Friday December 16th, 2022, and will close on December 31st, 2022. If books sell out before the 31st, we will close sales before that date.
How much will the books cost? All paperbacks are $25 each, and all hardcovers are $38 each. These prices are USD, and do not include tax and shipping which will be determined at checkout.
How do I go about getting my books personalized? Beginning December 16th at 12PM ET, once you've placed your order via the shop page, you'll receive instructions in your order confirmation email. (It is a form you'll submit with your order number/info and the name(s) you'll want in your book(s)!)
Can I get the author to include a special message in my book(s)? Due to the high volume of orders, we can only guarantee that the author will be able to personalize to a name/nickname upon request. If it's for a birthday/gift, you can request a "Happy Birthday" or something similar (via the personalization form that will be included in the order confirmation email), however, we cannot guarantee the author will be able to do that due to time constraints.
When will my Virtual Signing order ship? All virtual signing orders placed between 12/16/22 and 12/31/22 will be fulfilled + shipped by ApollyCon between April 24th, 2023 and May 1st, 2023.
Are there order/item limits? Due to limited stock, we are only allowing 2 of each title per order. So a max of 8 items total as there are only 4 titles available. If you order more than 2 of each book in one order, it will be cancelled.
Can I combine multiple orders? Unfortunately, we are unable to modify or combine orders.
How can I cancel my order and get a refund? Unfortunately, we are unable to cancel orders, or offer refunds. All sales are final. The only exceptions will be made for duplicate orders placed by mistake. If this applies to you, please send us an email with your order numbers and the one you wish to have cancelled.
What are the shipping rates? Domestically (USA), the lowest shipping rate will be $11.75, and the highest will be about $19. The international shipping rates will vary based on the weight of your package and the destination, to be calculated at checkout. Unfortunately, all shipping rates are determined by either USPS (domestically) or UPS (international). Because we plan to ship all domestic packages via USPS priority (to make sure they are insured) the U.S. rates are a little pricier than non-priority shipping.
I submitted the personalization request form, but need to edit it. What should I do? Please send us an email at shop@apollyconevent.com with "PERSONALIZATION" in the subject line, along with your name, order number, and personalization edits. Make sure to send this BEFORE the February 5th, 2023 deadline (when the form will close).
I forgot to submit the personalization request form before it closed. What happens now? If the deadline has passed (February 5, 2023) and you forgot to submit a personalization request, then your order will ship signed by the author, but not personalized.
The virtual signing email address is shop@apollyconevent.com.